Father and son sex traffickers jailed in Manchester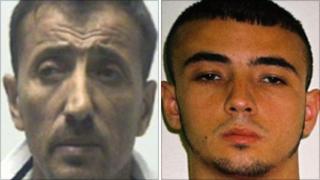 A father and son from Romania who trafficked women into England and forced them to work as prostitutes have been jailed.
Bogdan and Marius Nejloveanu, aged 51 and 23, were convicted of 34 separate offences, including trafficking at Manchester Crown Court last week.
The son was sentenced to 21 years and the father was jailed for six years.
They promised their five victims homes and jobs but forced them into sex work in Manchester and Birmingham.
During their trial, the jury heard how the women were specifically trafficked into the UK by Bogdan Nejloveanu for the benefit of his son.
'Psychological damage'
The women were promised work as cleaners but were instead "beaten and degraded" upon arrival, and forced to work in brothels. Some were raped.
Passing sentence Judge Robert Atherton said: "These are people, as victims, who often have little in their lives. They hope and trust for better and are brought to this country and treated the way in which you treated them, really not as people, in some ways not even as slaves, but simply as goods to be sold.
"The effects upon all of them, I have no doubt, they will be significant and long lasting and have caused and continue to cause great anxiety."
The victims told the court they suffered psychological and physical damage, contracting STIs, having tests for Aids, one having an abortion and all suffering the "shame" of what they were forced to do.
Two of the women had learning difficulties, and were described as "child like" despite their ages, one not even knowing what country she was in by the time police were tipped off.