Carers in Oldham fear impact of council budget cuts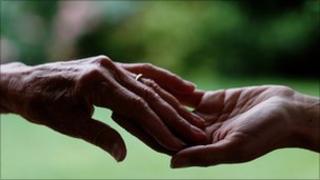 As local government budget cuts begin to bite, decision makers at Oldham Metropolitan Borough Council are looking to save £40m. The BBC meets local families worried about the impact this could have on them and their loved ones.
Barbara Robinson is very tired. She was up several times in the night with her 86-year-old mum Lillian.
Lillian moved in four months ago and needs round-the-clock care.
Barbara and her husband take it in turns to sleep downstairs near the room they have converted for Lillian so they are close by when she needs to get up for the toilet.
She does not always make it.
Lillian has Alzheimer's and dementia and other complex health needs including diabetes which has to be carefully monitored.
When Lillian could no longer look after herself in her own home, Barbara was happy to become her full-time carer and it is clearly a labour of love.
"She's looked after me so I will look after her as long as I can," Barbara says.
"And I want to feel that whenever I need a break and the family needs a break, to have little bit of normality, that my mum is looked after and we all have peace of mind."
But Barbara is worried. Oldham Council is having to make cuts of £40m and is proposing to close all but one of its four respite care units for older people like Lillian, and to buy more care in from the independent sector.
'People are hurting'
And while she hopes to be able to continue to use the remaining council-run unit she has been warned to investigate the private facilities just in case.
Barbara has used private agencies before for other aspects of her mother's care and found them wanting.
"I'm very concerned about the standards and who is going to monitor it. It's a case of being frightened of the unknown. I just hope they are aware of how the cuts are going to affect people.
"You put things in black and white and they add up and that's fine, but it's not when people are hurting because of it."
At times she gets desperate for a break but is adamant she will not use private respite care if she cannot be confident her mum will get the level of service she expects from the council.
She is not the only one who has had bad experiences of the external sector.
At one of a series of public consultation sessions held by the council in December another woman, Lorraine Hunt, broke down in tears as she explained her fears that her disabled husband's home care might move to an agency under the plans.
"We have got fantastic carers and we don't want to change to an agency because we had one before and they haven't got a clue what they are doing.
"They are paid less money, the experience isn't there. You pay peanuts you get monkeys, end of story."
'Stark decisions'
Finding savings on this scale has been a painful process.
Councillor Howard Sykes, the leader of Oldham Metropolital Borough Council, has led the search through a process known as the Star Chamber.
Departments offer up ideas which are examined. If accepted, they make their way through the council's democratic process and are ultimately voted on by the full council.
"You are down to some stark decisions about do you provide the service at all, do you charge a lot more for it, do you let the private sector provide it?
"It's that sort of decision about whole services we are having to look at," said Councillor Sykes.
"Adult social care is an area where we are saying actually there is quite a mature market out there in the private sector where this care can be provided a lot cheaper than we can do it ourselves.
"Providing the choice exists out there for people and providing we are certain of the quality, it is a decision we will make."
'Angry with me'
The cuts threaten to bite right across the council from school crossing patrols to the treatment of rats, mice and cockroaches to the cost of senior management.
The council has already proposed making around 500 staff redundant. The final package of savings will be put to the vote on 23 February. And then the council has to find another £22m savings ready for 2012/13.
"There are some good things we have done and managed to protect. We have left libraries and our leisure estate predominantly alone which is not happened in other authorities.
"But I think people are going to get angry, and some are going to be angry with me, let's be honest," said Councillor Sykes.
"But the question people have to ask is what would anybody else have done in this situation? Some of the choices I have had to make anyone would have made."
Northern Exposure: A Cold Wind in Oldham is on BBC Radio 4 on Tuesday 1 February at 1600 GMT. Listen again via the BBC iPlayer.