Bolton Council to cut up to 1,500 jobs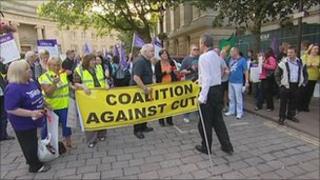 Up to 1,500 council jobs are to be cut in Bolton, Greater Manchester.
Bolton Council, which has no overall control, said it needed to make £60m in savings over the next two years after a 25% cut in its funding.
The authority conceded the cuts would have a big impact on council services, but said it would attempt to protect the most vulnerable.
Consultations with staff, unions and members of the public will now be carried out.
'Blame on government'
The decisions were approved by a meeting of the council's executive on Monday.
As part of the savings the council will reduce its neighbourhood regeneration programmes, reconfigure children's services and make cuts to department budgets across the authority.
It said it had also identified a 45% reduction in spending on senior management at director and assistant directors level.
In a statement, the council said: "Savings amounting to 25% of the council's budget will have a big impact in terms of the services the council is able to provide for local residents.
"Although there will be reductions in services, the council has worked hard to protect the most vulnerable and to target resources on areas and individuals with the greatest need.
"We have also prioritised savings that can be made without immediately affecting service quality."
'Every service'
Reductions in local government grants have been imposed by the government in an attempt to cut the national budget deficit.
Bernie Gallagher, branch secretary of the Unison union, said: "It's a huge amount of money in a short space of time. Clearly the council have got choices to make and they are going to protect vulnerable adults and vulnerable children.
"But I think there's no doubt with the scale of these cuts that they are going to affect every single service the council delivers.
"Clearly the blame is on the government and the impact of these cuts we believe are government led. We're very concerned about it."