Ex-soldier Danny Fitzsimons awaits Iraq murder verdict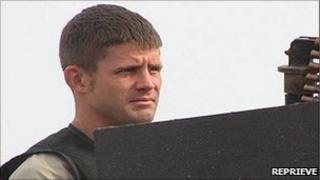 An Iraqi court has retired to consider a verdict in the case of a British security guard accused of murdering two colleagues in Baghdad.
Danny Fitzsimons, 30, from Rochdale, could face the death penalty if found guilty.
The ex-soldier admitted manslaughter with diminished responsibility, but pleaded not guilty to murder.
The trial has been adjourned until 20 February while judges consider Mr Fitzsimons' psychiatric report.
Mr Fitzsimons is accused of killing Paul McGuigan, of Peebles in the Scottish Borders, and Darren Hoare, of Queensland, Australia, both 37, on 9 August, 2009.
The three men had been working for British security firm ArmorGroup, based in the Iraqi capital's fortified Green Zone, at the time.
Mr Fitzsimons' defence team have said that at the time of the incident he was suffering from post-traumatic stress disorder (PTSD) as a result of his experiences while serving in Kosovo with the British army.
The BBC's Jim Muir, in Baghdad, said the defendant insisted he shot the men in self-defence.
"He admitted he was extremely drunk and had punched Paul McGuigan in the face after an altercation," said our correspondent.
"After retiring to his caravan, Mr Fitzsimons said the other two burst in and started kicking and stamping on him.
"He said Darren Hoare held him down, while Paul McGuigan pointed Mr Fitzsimons' own automatic weapon at him and threatened to kill him.
"The defendant said he seized his own pistol and shot Mr McGuigan in the chest and face. There was then a struggle in which he fatally shot Mr Hoare as well."
'Psychologically responsible'
The former paratrooper admitted to manslaughter with diminished responsibility - but that is a distinction which does not exist in Iraqi law, our correspondent said.
"An Iraqi medical panel has ruled that Mr Fitzsimons is fit and psychologically responsible for his own actions.
"But the court decide to adjourn until 20 Feb to take advice on the effects of PTSD," our correspondent said.
"The defendant said he was in an advanced stage of the condition. He has a long history of disturbed behaviour and faced two charges in the UK on offences related to firearms and illegal possession of ammunition."
Mr Fitzsimons is the first westerner to stand trial in Iraq after a 2009 US-Iraqi security agreement lifted immunity for foreigners.
His family in the UK have called on the British government to bring him back to face a trial under the UK judicial system.
One of his legal team, John Tipple, said the situation was "extremely concerning".
"The court simply must take notice of the psychiatric state that Danny Fitzsimons is in," said Mr Tipple, a case worker with solicitors Linn and Associates.
"It seems they are paying some attention to his condition. But the death penalty remains a very real possibility."
However, Mr McGuigan's fiancee Nicci Prestage, 37, has urged the court not to be swayed by the claims of the defence.
Miss Prestage said: "Since the murder of my fiance Paul I have tolerated untruths and misinformation about what happened that evening.
"Paul had two gunshot wounds to his chest that were not at close range. These were not killer shots. As Paul fell to his knees a gun has been put in his mouth and shot, severing his spinal cord and killing him.
"Darren was shot to his temple at close range. He was still alive when he was found. I would describe this as execution.
"Iraq is a sovereign country with its own justice system and the right to try people that commit offences within its jurisdiction."