Bolton Morris dancers appeal for new members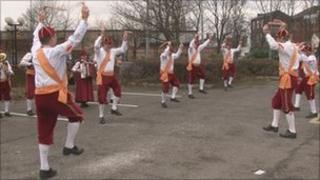 A Morris Dancing group from Greater Manchester is appealing for new members to help keep alive a tradition that dates back to the 15th Century.
Horwich Prize Medal Morris Men have been performing since the 1890s but are now looking for some new recruits.
The group performed in Bolton on Saturday in the hope of attracting new dancers keen to join them.
Leader Reg Hardman said more younger people were needed to keep the traditional dance group going.
He said: "These types of traditions can so easily die out, and if they do it's something that we've lost forever.
"We've got the photographs, but I think it needs to be a living tradition."
He added: "Age is against us. The majority of the team are now over 60. We have a couple of young lads in who are very good, but we need more younger people to keep the thing going.
"We'll probably go for another three or four years but we are struggling at times now to get eight men to dance, and we need eight men to dance."
The group dance throughout the year at local events and folk festivals, and practice each week at the Resource Centre in Horwich.
Morris dancing involves teams of dancers - often wearing hats and bells on their legs - wielding handkerchiefs, sticks or swords, to the accompaniment of folk music.
It dates back centuries, though its origins are unclear.