March held in Wigan over proposed council job cuts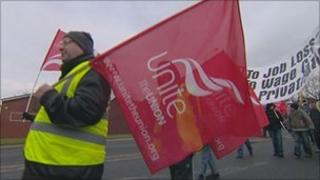 Workers opposed to hundreds of proposed job cuts at Wigan Council have staged a march in the town centre.
The council needs to save £55m over the next three years in the light of government funding cuts, and it is thought up to 820 jobs could go.
The protest, organised by Wigan Trades Council and supported by Unite, started at 1300 GMT.
In Manchester, community groups and trade unions took part in a conference against the cuts.
'Destroying the community'
Campaigners from the Labour Party, trade unions and student groups opposed to cuts to public services and the planned rise in tuition fees attended the event at the Friends Meeting House.
Paul Finegan, Unite regional secretary, said: "The reason we are getting involved is because Wigan is already being hit hard by cuts.
"We must make a stand to stop the Con-Dems throwing hundreds of local people on the dole and destroying the community.
"We are marching on Saturday to highlight the devastation the cuts will have on the lives of ordinary people living in Wigan and to say there is an alternative to what the government is doing."
Student Francesca Byron joined the march to protest against the rise in tuition fees.
"I'm a student from Liverpool John Moores University and as every other student I'm facing massive cuts to our education," she said.
"I think it's really important that we join up with workers and other people in the community that are facing cuts."
Ian Wright, a convener at Heinz in Kitt Green, said he was there to support other unions in the borough.
"It's very important that we all stick together and fight these cuts together," he said.
"As we've done at Heinz, we've just won a pay rise. It is possible that if people get together and show determination we can win through.
"The government are jumping on the bandwagon of these austerity measures, we are not in this together, they are certainly not in this together. We're the ones who are in this and who are suffering."
Councils across the country face a 28% cut over the next four years as part of the Government's Spending Review.
In Wigan, more than 200 staff have already volunteered to take voluntary redundancy or early retirement.