Coroner's concern over Stockport hospital baby death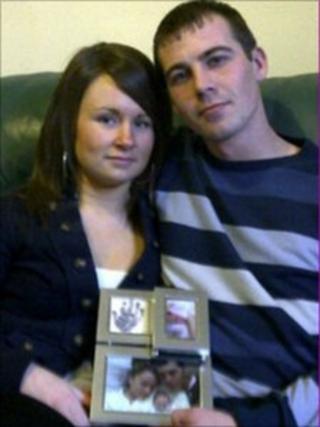 A coroner is to write to the government over mistakes made at a Greater Manchester hospital after a baby died minutes after being born there.
Harley Hikin-Balderson was born at Stepping Hill Hospital in September 2009, but died 36 minutes later.
Coroner John Pollard recorded a verdict of medical misadventure at his inquest at Stockport Coroner's Court.
Hospital chiefs said they "deeply regretted" what had happened.
Mr Pollard said he would now be writing to Secretary of State for Health about how the birth was handled.
He said problems in labour were not spotted soon enough.
The inquest on Wednesday heard Harley died as a result of a deprivation of oxygen on 11 September.
The hearing was told that foetal blood samples showed Harley's condition had been deteriorating and he should have been delivered as an emergency.
Instead, medical staff tried unsuccessfully to deliver him using forceps, and the caesarean section was not carried out for a further two hours.
'Left us devastated'
Harley's parents, Kirsty Hikin, 23, and Rob Balderson, from Stockport, said they were devastated by their loss and would never get over it.
Ms Hikin said: "The past 16 months have been horrendous.
"For so long we had been looking forward to Harley's birth and couldn't wait to bring him home, but tragically we never got that opportunity.
"His death has left a massive void in our lives that has left us devastated.
"The inquest has helped to answer some of our questions as to why Harley died but sadly nothing can ever be done to bring him back.
"We only hope that the hospital learns from its mistakes so that nobody else has to go through the horrible situation what we have over the past year."
Dr Chris Burke, chief executive of Stockport NHS Foundation Trust, said: "The trust deeply regrets the tragic outcome in this case and met with the family some 12 months ago to discuss the findings of its investigation into the care provided in 2009.
"The trust awaits receipt of the letter from the coroner detailing the outcome of the inquest and any concerns. The Trust will respond to these as required."