No option but to cut jobs - Manchester council leader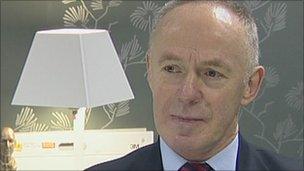 The leader of Manchester City Council said it had been left with no option but to make 2,000 job cuts in the wake of reduced government funding.
The Labour-run authority said it needed to save £110m in 2011-12 after changes were made to local authority grants.
Sir Richard Leese said: "Taking 25% out of our budget is truly shocking. What this Conservative-Liberal Democrat government is doing is appalling."
The government said the council could have cut executive pay to save money.
It said in December that no council would face cuts of more than 8.9% when it announced changes to local government grants.
The council agreed to offer a voluntary severance package to staff at a meeting on Wednesday.
Sir Richard said: "Because of the scale of the cuts, which originally we believed we would be able to make over four years and now we have to make in one year, we can't do that through natural turnover of staff.
"We have to get rid of staff very, very quickly but we are determined to do that on a voluntary basis and from this afternoon we will be inviting applications."
He added: "If we lose 25% of our net budget we can't do that without having a severe impact on our services."
The council is publishing its draft budget on 8 February, outlining where more cuts will be made.
Sir Richard said: "We want to have a budget that does two things. First of all we want to have a budget which looks after those in the greatest need, but secondly we have to keep the city moving forward.
"We're losing 2,000 jobs. If we do things that hit the economy more than that then it will reduce the prospect of people being employed elsewhere."
The council has been criticised for not cutting the chief executive's pay.
Local Government Minister Grant Shapps said: "It's important that all chief execs on more than £150,000 lead from the front and set an example by taking a pay cut in these tough economic times.
"We believe that cutting chief exec pay should be part of a package of measures which include merging back office services, joining forces to procure and using their cash reserves that councils should adopt.
"If local authorities like Manchester do this they can protect front-line services."
Sir Richard said reducing pay would not cover the funding deficit.
"If we were to cut salaries of the top people, if we were to take £100,000 off the chief executive's salary, we would still have to save £110m.
"I think what the government is trying to do when it says these things is divert attention from the sheer scale of the cuts we have to make.
"To quote Margaret Eaton, Conservative Chair of the Local Government Association, she said publicly if anybody imagines that we can make cuts on this scale simply by shaving away top managers' salaries then they're mad, we can't do it."
Related Internet Links
The BBC is not responsible for the content of external sites.