Ex-Smiths guitarist Johnny Marr to write autobiography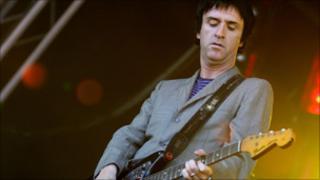 Former Smiths guitarist Johnny Marr has been offered a "serious" book deal to write his autobiography.
The guitarist, who is now with The Cribs, broke the news to fans on his Twitter page.
"I have been offered a book deal, a serious one. I'd get into it and that would mean less time on songs. It will happen though," he wrote.
"It will be an autobiography of course, that or my collection of fascinating public bus tickets from the '80's.
"That would be cool."
Marr formed The Smiths in 1982 with vocalist Morrissey with whom he formed the songwriting partnership which was at the core of the band's output.
The band also included Andy Rourke (bass) and Mike Joyce (drums).
Although critically acclaimed, The Smiths never reached higher than number 10 in the singles charts.
The band broke up amid acrimony between band members in 1987.