Oldham East MP Debbie Abrahams takes Commons seat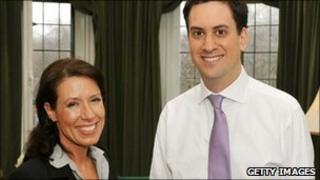 The new MP representing the people of Oldham East and Saddleworth has taken her seat in the House of Commons.
Labour's Debbie Abrahams was welcomed by cheering MPs on the party's benches as she was led into the chamber on Tuesday afternoon.
After affirming her allegiance to the Queen, Ms Abrahams signed the roll before receiving a kiss on the cheek from Labour leader Ed Miliband.
She extended Labour's majority in the seat to 3,558 in the by-election.
The contest was called after sitting Labour MP Phil Woolas was removed for lying about an opponent.
The Liberal Democrat Elwyn Watkins, who brought the successful court action, lost by 103 votes at last May's general election.
Ms Abrahams won 14,718 votes, ahead of Mr Watkins with 11,160. Tory Kashif Ali was third with 4,481.