Survey reveals EMA grant importance to Salford students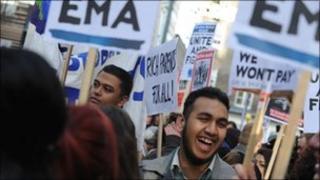 About a third of Salford City College students would not have gone to college without education maintenance allowance (EMA) grants, a survey has suggested.
The government is to axe the EMA, which is worth up to £30 a week, in favour of targeted support for poorer students.
More than half of Salford City College students receive the grant, designed to pay for books and travel costs.
In a survey, 34% of its students said they would have got a job instead of attending if EMA had not existed.
'Not efficient'
Most (79%) of the 348 students surveyed at the college's five campuses claimed to spend their grant on transport, books and equipment.
About 80% of those responding to the survey are in receipt of the full £30 a week grant.
Nick Gibb, Minister for Schools, said a survey had been carried out by the last government, which found only 10% of students would have not continued in education.
Ministers were "concerned" by that 10%, he said, which was why they planned to introduce a means-tested grant.
Mr Gibbs said EMA currently costs the government £516m a year to run and £36m to administer.
"It is not an efficient way to target resources for those people who have genuine financial hardship," he said.
He said the government had to reduce the deficit, which young people would benefit from as it would eventually lead to more job opportunities.