Greater Manchester Police staff told of job losses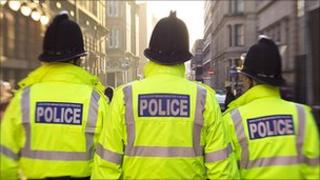 More than 200 civilian Greater Manchester Police (GMP) staff are being told they will lose their jobs as part of a drive to cut costs.
The 250 workers are being told they face compulsory redundancy in one-to-one meetings with managers.
Most of the staff are employed in IT, catering and human resources.
The force has said it will have to cut 1,387 officers and 1,557 civilian posts to make up a shortfall in government money of £134m.
Monday's job losses form part of a huge programme of reform aimed at saving money in the wake of the government's spending review.
By law, police officers cannot be made redundant so the police authority expects the savings in frontline officers to come from natural wastage, a recruitment freeze and forced retirement for officers with more than 30 years of service.
Jim Moodie, from Unison, said: "We are continuing to meet with police to try and mitigate the job losses.
"We are meeting again tomorrow and we have further suggestions that we would like to make, including allowing more people to go on voluntary redundancy."
He said the union was making representations to the management and to the police authority.
GMP's Chief Constable Peter Fahy said: "The public expect us to now concentrate our spending on those areas which they value most and do most to protect them from harm.
"The reductions we have to make are extremely painful for the staff involved and we have worked hard to keep them informed. Many of the ideas for change came from staff themselves.
"It is inevitable that it appears to those faced with losing their jobs that their effort is not appreciated."
He added: "That is not the case, but the fact is that policing has been funded and measured in a particular way over recent years and that has now changed.
"We are determined to look at every pound we spend and do all we can to preserve the service to the public through the efficiencies we are making."