Manchester council criticised over by-election job cuts announcement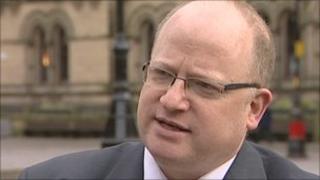 A row has broken out over the timing of Manchester City Council's announcement that it faces cutting 2,000 jobs as a result of government spending cuts.
The news broke on the same day as voters went to the polls in the Oldham East and Saddleworth by-election, which was won by Labour's Debbie Abrahams.
The Liberal Democrats, who came second, said some voters might not have backed them because of the announcement.
The council said any claim the timing was linked was "spurious and wrong".
The Labour-run administration said it needed to reduce its workforce by about 17%, after changes to local authority grants left a huge hole in its finances.
All staff are now being asked to consider voluntary redundancy or, for those aged over 55, early retirement.
Simon Ashley, Liberal Democrat councillor for Gorton South, said: "There was no written report, it was sent out to the press before staff were told.
"I think it was not beyond the realms of possibility that the Labour party would co-ordinate this for party political advantage."
'Maximise savings'
Local government minister, the Conservative Grant Shapps said: "Announcing this on the day of a by-election just next door perhaps to where some of these people actually live is playing politics with it.
"I am very sorry to see that they have done it [on Thursday], and I welcome them to come meet and have a proper discussion about these things."
A spokesman for Manchester City Council said: "The decision was taken by council officers, not elected members.
"The timing was designed to maximise savings and we made the announcement at the earliest possible opportunity."
Labour won the Oldham East and Saddleworth seat with a majority of 3,558 over the Liberal Democrat candidate Elwyn Watkins.
The by-election was called after a special court found ex-Labour minister Phil Woolas made false statements about Mr Watkins in May's general election, in which Labour retained the seat by 103 votes over the Lib Dems.
The ruling invalidated the result and resulted in Mr Woolas being barred from politics for three years.