Christie Hospital new cancer therapy is 'saving lives'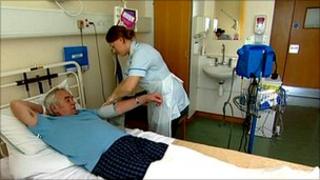 A tough but pioneering treatment is showing promising results for patients with advanced kidney cancer, staff at Christie Hospital Manchester have said.
The hospital is spearheading a specialist immunotherapy treatment which uses the body's immune system to fight cancer cells.
Latest research shows that 25% of patients treated with high doses of Interleukin-2 are now in remission.
Professor Robert Hawkins said patients were carefully selected.
One of the patients on the seven year trial, Heidi Morter, 40, was planning her funeral after the cancer spread to her lungs and liver from her kidneys, before being offered the drug.
"I agreed straightaway to do it," said the mother-of-three, from Northwich, Cheshire.
"I have had a whirlwind of emotions, fear, anxiety and now just this feeling of wow, Professor Hawkins saved my life.
"I'm very grateful we all are."
Interleukin is described as an aggressive drug.
"It is a difficult treatment, it isn't a drug that we can given everybody," said Professor Hawkins.
"But what is exciting is that in a quarter of patients the tumours have gone completely and as far as we can tell that is long lasting," he added.