Bail bid for detained 'nuclear secrets' Iran family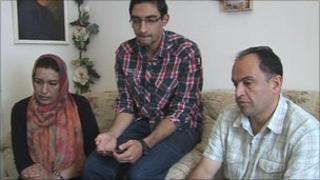 An Iranian family detained by the UK Border Agency (UKBA) after their asylum claim failed are hoping to be released pending a judicial review.
Mohammed Vahidi applied for asylum in Manchester in 2007 after being linked to leaks about Iran's nuclear industry.
The family went into hiding in August 2010 after being given a removal date, but were arrested by the UK Border Agency (UKBA) on 20 December.
Lawyers are applying for bail pending the outcome of the legal action.
Mr Vahidi, his wife Zarha and son Farhad are currently in Yarl's Wood detention centre, Bedfordshire.
A spokeswoman for Manchester-based human rights charity Rapar, which has worked with the family, said they were bearing-up but "very, very stressed" by the case.
On 16 December, the government announced plans to end the detention of children in the immigration system by closing the centre's family section with immediate effect.
The Vahidi family were arrested a few days later on 20 December - about a week after their son, Farhad, turned 18.
"They thought they were in hiding but I don't think they really were - I think the Home Office knew where they were the whole time," said Gary McIndoe, the family's lawyer.
"It's going to be hard to get them out but we do owe it to them to give it a try.
"They've got a lot of support locally in the community and we're hoping we can get addresses and people to act as sureties to give them the best chance of release.
"The Home Office aren't seeking to expedite the judicial review so the whole process could take weeks, if not months."
The family sought asylum after learning that one of Mr Vahidi's best friends, a member of the People's Mojahedin of Iran (PMOI) - an opposition party - had been found dead in suspicious circumstances.
Mr Vahidi believes the man was killed after information he gave him about Iran's nuclear programme was published on a PMOI-run satellite channel.
Mr Vahidi worked in an industry related to Iran's nuclear programme.
Since their initial asylum application, lawyers say Mr Vahidi's brother-in-law - who lives in the UK - returned to Iran to visit family and was arrested and interrogated about their whereabouts.
After settling in Manchester, the family also became involved in political activity as part of the green movement, a loose conglomerate of groups opposed to the Iranian regime.
"They've attended demos and that kind of thing and there is evidence that people who do that, people who do engage in active opposition to the Iranian regime here in the UK, their movements are recorded or filmed," Mr McIndoe added.
"There is evidence people are targeted as a result of that - so that's an aspect of the claim as well."
The UKBA said it could not comment on individual cases.
But in a statement, Jo Liddy, North West Regional Director, said: "We consider all applications for asylum in the UK very carefully on their individual merits, and will offer protection to those who need it.
"We only remove individuals that are found by the UK Border Agency and, where appropriate, by the courts, not to be in need of protection."