Father and son sex traffickers convicted in Manchester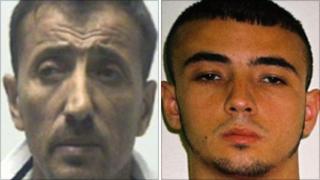 A father and son from Romania have been found guilty of trafficking women into England and forcing them to work as prostitutes.
Bogdan and Marius Nejloveanu, aged 51 and 23, were convicted of 34 separate offences, including trafficking.
The men promised their five victims homes and jobs but instead beat and raped some of them, forcing them into sex work in Manchester and Birmingham.
The two had denied the charges at Manchester Crown Court.
During their trial, the jury heard how the women were specifically trafficked into the UK by Bogdan Nejloveanu for the benefit of his son.
'Hellish regime'
The women were promised work as cleaners but were instead "beaten and degraded" upon arrival, and forced to work in brothels.
Most of the women, some of whom were teenagers, were from poor areas of Romania.
They were forced to work six or seven days a week, having sex with up to 10 men every night.
Marius told some women he loved them and showered them with affection so they would come to England. Others were told he had found them legitimate work, such as in a restaurant or cafe.
Greater Manchester Police (GMP) were initially alerted to the first victim in October 2008 by a tip-off which suggested she was working against her will at Shangri La massage parlour on Ashton-Old-Road, Openshaw.
Officers rescued a 25-year-old woman who then led them to a second victim, aged 20, at a house in Bordesley Green, Birmingham.
A further three women were uncovered in the resulting operation, which was the biggest human trafficking investigation carried out by the force.
Det Con Colin Ward, from the Sexual Crime Unit, said: "It is difficult to find the words to describe the physical and sexual abuse these women have endured.
"Marius in particular spun a web of lies to encourage the women to come to the UK, whether by declaring his love for them or promising a better life.
"Instead they became prisoners forced into prostitution. If they complained in any way they would be beaten and raped by Marius.
"The girls are still frightened of Marius and Bogdan such was their reputation and the fear Marius in particular instilled in them through his violent, abusive and hellish regime."
Prison sentences
Marius Nejloveanu was convicted of charges including rape, trafficking, assault, controlling prostitution for gain, causing sexual activity without consent and conspiracy to pervert the course of justice.
His father was found guilty of trafficking charges and controlling prostitution for gain.
The offences took place between 2006 and 2010.
The judge said the two men would "inevitably face substantial prison sentences for their crimes".
They are due to be sentenced on 26 January.