Manchester City Council to cut 2,000 staff posts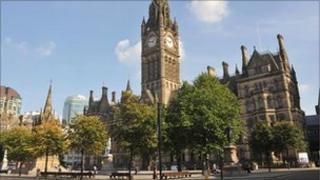 About 2,000 jobs are to go at Manchester City Council because of government spending cuts, the authority has said.
The Labour-run council said it needed to reduce its workforce by about 17% after changes to local authority grants left a huge hole in its finances.
Officers need to find £110m of savings in 2011-12, £60m more than expected.
The government criticised the fact the council's chief executive earns nearly £100,000 more than the prime minister.
The council said it wanted to avoid compulsory redundancies but said it needed to reduce the workforce quickly.
All staff are being asked to consider voluntary redundancy or, for those aged over 55, early retirement.
'Accelerated cuts'
Unite has raised the threat of industrial action to fight the planned redundancies.
Regional officer Keith Hutson said: "Our members are outraged. This is the clear result of the coalition's austerity measures and cutbacks to local government funding announced before Christmas. It will have a devastating effect on services and the people that use them."
The coalition government said no council would face cuts of more than 8.9% when it announced changes to local government grants in December.
But Manchester City Council said it was among the five worst-hit authorities in England and, in reality, faced a 25% cut over the next two years.
The cuts have been imposed by the government in an attempt to cut the national budget deficit.
The Local Government Association has predicted the spending cuts will lead to the loss of 140,000 council jobs in England and Wales over the next year.
The government said the claim was not based on credible research.
Council leader Sir Richard Leese said: "We now have to find £110m in savings next year - £60m more than expected - because of front-loading and the redistribution of money from Manchester to more affluent areas.
"The accelerated cuts mean we can no longer achieve the staffing reductions we have been forced into through natural turnover, which is why we are proposing a time-limited offer of voluntary severance and voluntary early retirement."
He said the council would continue to invest in its "M People" programme, developed in conjunction with the unions, which aims to match the skills of the existing workforce to roles that can improve services, in a bid to maintain those services while still saving money.
A spokesman for the Communities and Local Government Department said: "The government has delivered a tough but fair settlement ensuring the most vulnerable communities were protected.
"If councils share back-office services, join forces to procure, cut out the non-jobs and root out the over-spends, then they can protect frontline services.
"Driving down the nation's deficit is the government's biggest priority but we have made sure that extra money, powers and funding freedoms are available to protect frontline services and the public from council tax rises, offering real help to hard-working families and pensioners."
He said the settlement was fair across different parts of the country and that funding per person was highest in areas with most need.
"In 2011/12 Manchester will still receive a central government grant of £713 per head, compared, for example, to £125 per head in Wokingham," he said.
Local Government Minister Grant Shapps said: "Labour hypocrisy on this issue is breathtaking. They admit there need to be cuts but can't say where they would fall.
"We have been quite clear that if councils cut chief executive pay, join back office services, join forces to procure and cut out the crazy non-jobs, they can protect frontline services.
"Yet Manchester has a chief executive on a pay packet of nearly £100,000 more than the prime minister, who won't lead from the front and take a pay cut."
He added it was "equally disappointing" that the council had not published all expenditure over £500 online, but the council said it would do so this month and that this was within the government's timescale.
Manchester Central MP Tony Lloyd said Manchester had received an "astonishingly unfair settlement".
"It is disastrous because it is too far and too fast in terms of the cuts," the Labour MP said.
He said inner city areas had been singled out for "brutally difficult treatment".
He added: "We used to say we are no longer cutting off the fat and flesh, we are cutting into the bone. Actually I think this is rather more radical - we are amputating limbs."
He said the cuts would make Manchester a worse place to live as they would affect services in the city.
Alan Manning, of TUC North West, said the country needed policies which got people into work, closed "loopholes on tax evasion" and brought in "proper taxation of banks and financial institutions", rather than "savage cuts" which hit the poor and vulnerable.
Shadow local government secretary Caroline Flint said: "Councils are working hard to find savings by cutting top salaries and merging backroom functions and services with neighbouring local authorities, where it provides value for money.
"But the breakneck speed and size of the Tory-led government's reckless front-loaded cuts to councils will hit local jobs, economic growth and the vital frontline services people rely on."