Rapist who preyed on Manchester students jailed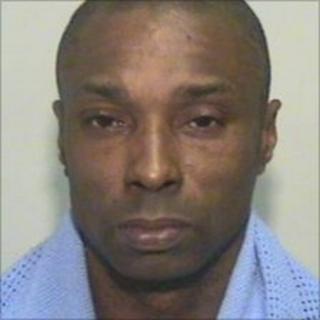 A rapist who broke into a Manchester hall of residence and attacked a terrified student at knifepoint has been jailed for life.
Paul Atta walked into the 19-year-old's bedroom and said: "Would you rather get stabbed or have sex with me?"
Liverpool Crown Court heard that less than an hour earlier he had fled another woman's bedroom when she managed to escape and raise the alarm.
Atta was told he must serve at least 12 years before being eligible for parole.
Prosecutor Dennis Watson QC said the attacks were "strikingly similar" to Atta's previous conviction for rape and robbery in 1991, when he was jailed for 14 years.
On Wednesday, he was convicted of two counts of rape, one of assault causing actual bodily harm, two counts of burglary and two counts of fraud by false representation.
The latest university attacks took place in the early hours of 19 July 2010, the trial heard.
Atta, of Roberts Avenue, Rusholme, south Manchester, broke into a residence in Rusholme and went into the bedroom of a 21-year-old woman.
She screamed and he punched her in the face before fleeing.
Atta then went to a nearby residence and broke in through a window. He picked up a knife from the kitchen and went into the teenager's bedroom.
He said: "If you scream I will stab you."
When the girl said she had no money or laptop, he said: "If you've got no cash then you can have sex with me."
Mr Watson told the court: "He then raped her. The knife was constantly in his hand or close by."
After his attack the victim asked him to leave, but he pushed her on the bed and attacked her again.
Previous conviction
He then forced the woman to give him her bank card and pin number, which he used to withdraw money at a nearby petrol station.
Police found fingerprints linking Atta to both scenes, sparking a five-day manhunt which ended when he was discovered at a house in Old Trafford.
In a joint statement, Det Con Laura Hughes and Det Con Liz Howe said: "What Atta did to his victim has left her devastated.
"He is clearly a dangerous man who preyed on students. Fortunately he is now behind bars, where he belongs, for a very long time. The streets of Manchester are now much safer."
Police also paid tribute to the "dignity and courage" of the two victims who helped police in their investigation.
Atta's previous conviction was for an attack on an 18-year-old woman he carried out in March 1990. He forced his way into her flat and raped her.
He pleaded guilty to rape and robbery in January 1991.