Illegal workers arrested at Greater Manchester takeaways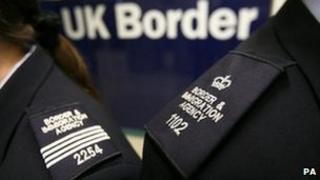 Four illegal workers have been arrested in raids on two takeaways in Greater Manchester by the UK Border Agency.
Officers targeted Kakon Indian Takeaway on Ashton Lane in Sale and Zain's Krispy Chicken on Wilmslow Road, Manchester, on Saturday.
Two Bangladeshi men were arrested at Kakon for breaching visa conditions and working illegally in the UK.
Two Pakistani men were arrested at Zain's for overstaying, breaching visa conditions and working illegally.
The Border Agency said the men had no right to be employed in the UK.
Two of them remain in detention and two were ordered to report to the local enforcement office whilst preparations are made for all four to be removed from the country.
Both businesses were handed civil penalty notices for employing illegal workers.
If the employers are unable to prove they conducted the correct pre-employment checks on staff they may be liable for a fine of up to £10,000 per worker.
Eddy Montgomery, operations director of the UK Border Agency in the North West, said: "This is the latest in a series of operations we've carried out to tackle immigration crime in Manchester, and more are planned.
"Illegal working has a serious impact on communities, taking jobs from those who are genuinely allowed to work. Businesses which operate outside the law should be warned that they will be found and they will be punished."