NSPCC: Hundreds report sex abuse by women each year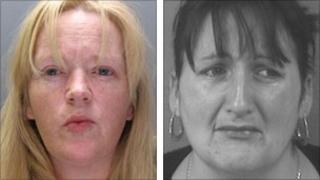 Hundreds of children call the ChildLine helpline every year to say they have been sexually abused by a woman, the NSPCC has said.
The charity has spoken out after Colin Blanchard, the leader of an online paedophile ring involving four women, received an indeterminate jail term.
Blanchard, from Rochdale, convinced the women to sexually assault young children and share the images with him.
The NSPCC said the case highlighted the issue of women as child sex abusers.
"Every year hundreds of children call ChildLine to say they have been sexually abused by a female. Research also shows that many reported victims are extremely young," a spokesperson said.
"This is a problem that needs urgent attention through better treatment programmes for offenders and training for child protection professionals."
The charity said that last year about 1,000 victims of sex offences reported to police in England and Wales were under five, and 3,000 were younger than 10.
IT consultant Blanchard, 40, of Yea Fold, admitted taking indecent photographs of children, distribution of an indecent image and sexual assault of a child under the age of 13.
He had previously admitted 19 other sex abuse charges.
On Monday at Bristol Crown Court he was told he must serve at least nine years in jail.
Fellow paedophiles Vanessa George and Angela Allen are already serving prison sentences.
George, 40, abused young children at Little Ted's nursery where she worked in Plymouth, and Allen, from Nottingham, assaulted youngsters to please Blanchard.
Sentenced alongside Blanchard on Monday were mother-of-nine Tracy Lyons, 41, of Portsmouth, who was jailed for seven years and Tracy Dawber, 44, of Southport, who was jailed for four years.
Dawber was in a year-long relationship with Blanchard, unlike the other women, who had never actually met him.
George, Allen and Lyons pleaded guilty to a string of charges of sexual assault and making and possessing child pornography.
Dawber denied one count of sexually assaulting a child and five counts of permitting indecent photographs of a child to be taken, but was found guilty in October after a retrial.
Andy Pilling, from Greater Manchester Police, said the fact that women were involved in this case was "unusual".
"Sadly, we expect to see men involved in child abuse, but to see four women being led by a man and each abusing children is probably one of the rarest things that I've ever seen," he said.
"Certainly for Colin Blanchard, he has a clear sexual interest in children.
"The only thing we can say in relation to the women at the moment is that they tried to please him, that they were involved with him in either sexual fantasy or, in Tracy Dawber's case, they were involved in a relationship."
Sentencing Blanchard, Lyons and Dawber, Mr Justice Royce said the case "caused widespread revulsion and disbelief".