Stockport College staff accept salary cut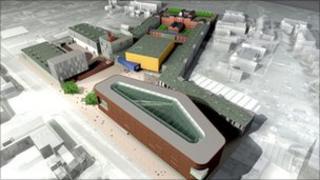 Staff at Stockport College have agreed to accept a pay cut after £4m was spent on planning a new building that has now been scrapped.
About 900 workers have taken a two per cent cut after unions and management agreed the move would save jobs.
Phase two of a £100m rebuilding programme was axed after its funder, the Learning and Skills Council, defaulted in April 2010.
Staff have been given an extra three days of holiday as compensation.
'Compliment unions'
The wages of about 100 of the college's lowest paid staff have been unaffected.
The college moved into a new £24m building on Stockport Road in September, which represented phase one of the planned development.
The second phase was to have provided a new home for its library, theatre and student services.
Deputy principal Keith Alcock said: "I can only compliment the unions on their support over this.
"We were left in this position where the college had paid £4m up front to fund the planning application and then we lost our funding to see the project through.
"There is an understanding that we need to take the two per cent cut or jobs would have to be lost.
"We're hoping that the cut will only be implemented until July, when our government funding increases, as our funding during the early part of the year is always less in further education."
The college's theatre and library have remained in their existing buildings.