Friendly fire death soldier in accidental death verdict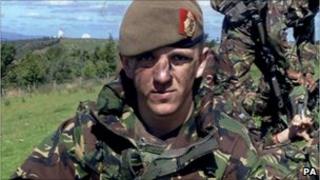 A coroner has said that "confusion" and lack of communication may have led to the accidental death of a teenage soldier, killed by Afghan troops.
Kingsman Sean Dawson, 19, from Greater Manchester, was on patrol in Helmand Province when fellow soldiers fired mistakenly on the Afghans.
One of the wounded Afghans retaliated by shooting Kingsman Dawson, the inquest in Stockport heard.
The soldier was five weeks into his first tour when he died on 14 February.
'No radio link'
Recording a verdict of accidental death, Coroner John Pollard said: "Sean Dawson was shot in the head and neck by members of the Afghan National Army (ANA) who thought they were under attack from the enemy.
"This occurred potentially as a result of confusion or a breakdown in communication between the ANA and ISAF (International Security Assistant Force).
"There was no direct radio link between the two forces and it would appear no ISAF mentors were with the ANA at the time."
The inquest heard that members of the British patrol believed that the (ANA) soldiers were members of the Taliban after receiving intelligence about insurgents in the area.
Kingsman Dawson had taken cover behind a wall at Musa Qala and was sprayed with bullets by a rifle held over the wall by one of the injured Afghans, the court was told.
He was serving with the 2nd Battalion The Duke of Lancaster's Regiment at Patrol Base Minden at the time of the incident in 2010.