Irlam gas blast hero still not back home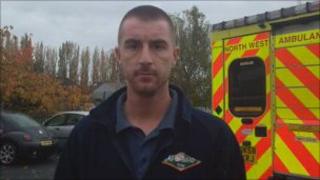 A hero of last November's Irlam gas explosion has said he has no idea when his family will return home.
Vinny Jones, 30, helped rescue a baby, whose mother was trapped in one of the houses devastated by the blast.
But, two months on, the father-of-two is still living at his in-laws while insurers consult with a loss adjuster over the cost of repairs to his home.
Residents of 205 households were evacuated, 181 have been rehoused or returned home.
Three homes were flattened and 20 homes damaged in the explosion in Merlin Road on 2 November 2010.
According to City West Housing Trust, the landlord for many of those who had to be evacuated, 171 families are back in their original properties, 10 have been permanently rehoused, nine have been temporarily rehoused, six are staying with family and four families are awaiting a move-in date.
Two others are still in hotels due to their individual circumstances and two are awaiting suitable accommodation.
Marie Burns, 73, who suffered 30% burns, is still in hospital.
A spokeswoman for Wythenshawe Hospital said she is "comfortable but stable."
The Health and Safety Executive investigation into the explosion is continuing.
Windows, doors, ceilings and walls were all damaged in Mr Jones home with the repair work expected to take 10 to 12 weeks
But until the loss adjustor can reach an agreement with the insurance company over the extent of the repairs and the cost, the family are with his in-laws.
"It's not easy when you re not living in your own home," said self-employed Mr Jones, who is recuperating from an operation.
Four adults and two children are living in a three-bedroom house his with his daughters, aged 11 and four, sharing a room.
Mr Jones said: "The insurance company knows at some point somebody was at fault and will have to pay for this."