Appeal to trace attackers of RAF veteran in Fallowfield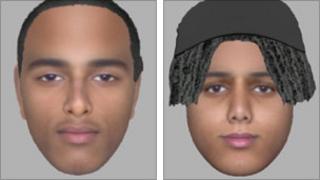 Police investigating an attack on a 69-year-old ex-serviceman in Manchester have released images of the suspects.
Anthony O'Brien was wearing his Royal Air Force jacket and a poppy when two men shouted abuse at him in Sherwood Street, Fallowfield, on 1 November.
When he replied, one of the men approached him from behind and punched him in the head.
He was then headbutted and left with two black eyes and a swollen nose.
The two men then cycled off on pedal bikes.
The attackers are described as aged between 17 and 20 years old, of Asian or mixed race.
One man was of stocky build, 5ft 6in (1.7m) tall, had thin braided hair and was wearing dark clothing.
The second man was of chubby build, 5ft 4in (1.6m) tall, had short shaved black hair and was wearing dark clothing.
Pc Michael Seddon said: "This was a mindless and brutal attack on a defenceless man.
"Anthony was left extremely shaken and he is still recovering from his injuries, and during the course of our investigation he was able to describe the suspects to the extent that experts were able to put the following image together.
"Anthony feels that both of these images give an accurate picture of the offenders. We would appeal to anyone who may recognise the faces to get in touch with us."