UKIP and BNP seek to woo voters in Oldham by-election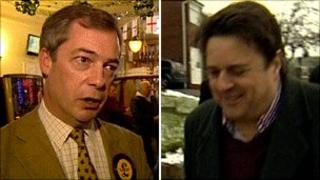 The leaders of both the BNP and UKIP have been campaigning in the Oldham East and Saddleworth by-election, bidding to woo disenchanted voters.
Nick Griffin, whose party came fourth in the seat at the general election, said a BNP win would boost the area.
But the UKIP leader Nigel Farage said his party wanted to "thrash the BNP in this constituency."
The poll, on 13 January, was triggered by a court ruling annulling the general election result from May.
The BNP gained 5.7% of the poll in the 2010 General Election while UKIP came fifth with 3.9% of the votes cast.
"To get the British National Party elected in a place like this would be such a huge shock to the political system without a shadow of a doubt, the government would try and pour money into the place to try and bribe voters back with their own money," said Mr Griffin.
"We're saying vote for us and finally they'll stop ignoring Oldham."
Mr Farage said: "I was absolutely determined on behalf of our party that we chose a strong candidate for the big campaign.
"I want us to thrash the BNP in this constituency, there is no room for that kind of extremism in British politics.
"With UKIP you have a party that is patriotic, proud to be British but not extreme in any way."
The election was called after an election court found that victorious MP Labour's Phil Woolas had made false statements about his Liberal Democrat opponent Elwyn Watkins.
The full list of candidates (in alphabetical order) is:
Debbie Abrahams (Labour)
Derek Adams (British National Party)
Kashif Ali (Conservative)
Peter Allen (Green Party)
David Bishop (Bus-Pass Elvis Party)
The Flying Brick (Monster Raving Loony Party)
Loz Kaye (Pirate Party of the United Kingdom)
Stephen Morris (English Democrats)
Paul Nuttall MEP (UK Independence Party)
Elwyn Watkins (Liberal Democrats)