Manchester rape victim urges others to report sex abuse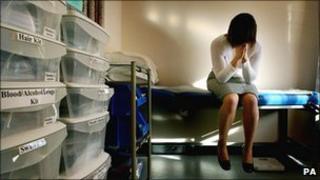 A 50-year-old woman who was raped by her father when she was a child is appealing for victims like herself to report abuse to police.
She is backing Greater Manchester Police's campaign to encourage those who have been sexually abused to tell someone who can help.
Every year the force receives about 850 reports of rape, and local charities provide support to about 2,500 victims in that time.
She stressed: "It's never too late."
The woman, who is not being identified, was raped and sexually assaulted by her father between the ages of six and 14.
After decades of carrying the secret with her, she said she finally snapped and mentally felt "shot".
She went to the police for advice, gave a statement and her father was arrested.
He was convicted of three counts of rape, one of sexual indecency and two sexual assaults. He was jailed for 10 years earlier this year.
When she heard that he had been found guilty she said she initially felt elated but that feeling soon changed.
"I always thought I would be delighted, that my life would start all over again when he was found guilty," she said.
"But it's not a case of starting afresh, it's more of a case of dealing with it, rather than doing things because of it.
"At end of the day he's my dad, he did some terrible things but we had good times too. But I had to stop thinking that I had put him in jail - he did that himself."
'Find the strength'
She said the police were "absolutely amazing".
"Even now I get a lump in my throat when I think about how good the police officers were to me," she said.
"Please report it, it could change your life. You can't carry on holding that knowledge, the effect it has on your life.
"If something has happened to you, please find the strength to do it."
The campaign has the support of St Mary's Sexual Assault Referral Centre, Survivors Manchester - for male rape victims and Manchester Rape Crisis.
Dr Catherine White, clinical director at St Mary's, said: "St Mary's SARC provides a service for people that have been raped recently or in the past.
"It is for men, women and children and provides not just access to a forensic examination, health screening and crisis support but can also support people through ongoing counselling for as long as they need it."