Manchester charity Barnabus warns of homeless deaths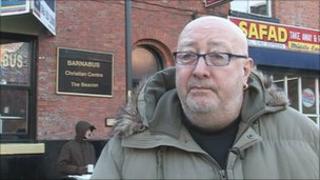 A charity has warned that rough sleepers could die on the streets of Manchester if more is not done to protect them from the cold.
Peter Green, who runs Barnabus in the city centre, said there was a growing number of people who desperately need a roof as the freezing weather sets in.
He says there needed to be at least 30 more beds made available.
The council however said beds were available and there was "no reason anyone to sleep rough" in the city.
Mr Green, who has been working with the homeless for the past 20 years, said he saw a very different picture on the streets of the city at night time.
"People are freezing, the cold snap is extreme and we need extra beds. Many of them simply say to us, 'Please find us somewhere to live, please find us somewhere warm'," he said.
He said the number of rough sleepers has increased because of the recession hitting so many families.
'Find spaces'
"We haven't come across a whole family that is homeless yet, but we have met a lot of dads who have had to leave the family.
"Homeless people are those who 'sofa surf' or find regular nights in hostels. The growing number is rough sleepers - those who do not even find any accommodation through the night and are forced to sleep outside in the cold."
The charity in Bloom Street has recently been given storage space. Mr Green made a plea to anyone with spare clothes to donate them.
"We are desperately in need of more secondhand and spare warm clothing. In the past people have donated soiled items of clothing, please give us things that people can actually wear."
A Manchester City Council spokesman said: "We do currently have 20 spaces available for rough sleepers in supported housing schemes, and on top of that, we will find spaces in B&Bs and hotels if we need to.
"These are extreme weather conditions but we are confident there is no reason for anyone to sleep rough in Manchester."