DNA needed to identify WWI Lancashire Fusiliers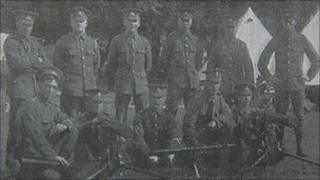 A military museum in Bury is hoping to solve the mystery of three Lancashire Fusiliers killed in Belgium in 1914.
The bodies were among six found by a French archeologist in Le Touquet, a village south of Ypres, in November.
Officials from the Lancashire Fusiliers Museum believe the three men are from Wigan and Manchester.
But before they can be given a full military funeral, experts need to trace the soldiers' relatives to confirm their identities through DNA checks.
Documents held by the museum suggest the three men - Henry Pulford, Edgar Parkinson and James Rowan - were buried near the village.
All three had been out in the region for a few months in the early stages of World War I in 1914.
The men were killed in an attack on the village on 20 October, and later buried in a temporary graveyard, said Lt Col Mike Glover, curator of the regimental collection.
"They had compressed fibreboard dog tags which as you'd imagine in 96 years have just rotted away," he told the BBC.
"Within the archive we have a list of these three individuals who were buried in this spot.
"At the moment it is speculation the three bodies that have been found actually relate to these three individuals - that's why we'd like to trace relatives.
"If we can turn three unknowns into three real Lancashire Fusiliers then I think we will have achieved an awful lot."
Anyone who thinks they may be related to the men should contact the museum, which will contact the Ministry of Defence (MoD).
They will be asked to give a DNA sample and, if the soldiers' identities are confirmed, they will be buried with full military honours.
The museum is home to the collection of the XX Lancashire Fusiliers and the Royal Regiment of Fusiliers, and commemorates 300 years of history and heritage.