'Outrageous' gang steal road grit from Oldham Council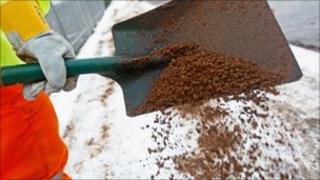 A councillor has condemned the "outrageous theft" of road salt and grit by a gang who robbed a depot.
"It is amazing how selfish some people are," said Oldham Councillor John McCann, Cabinet Member for Environment.
A gang of 10 men arrived at the council depot claiming to be sub-contractors but threatened a council workmen who challenged them.
Greater Manchester Police studying camera footage of the raid and are trying to trace the gang's vehicles.
Equipped with a mechanical loading shovel, the gang who had arrived a Range Rover, a truck and a van, loaded the salt before fleeing the depot despite an attempt to block them by a council staff member.
"This is an outrageous incident and a theft of vital stocks that are used to keep ordinary citizens safe on the roads," said Mr McCann.
"I cannot believe that anyone would stoop so low as to attempt to make personal gain out of weather conditions that are causing problems for us all - and are especially difficult for the more vulnerable members of society.
"Our gritting staff work extraordinarily long hours to keep vital services running and the actions of these men, who feel it is okay to demand and threaten them, is beyond belief."