Weather causes further disruption in Greater Manchester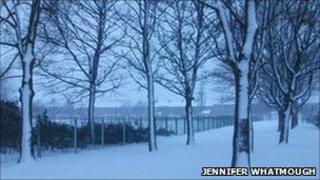 The wintry weather has caused further disruption in Greater Manchester, with dozens of schools closed in the east of the region.
Oldham, Tameside and Stockport have been worst affected by the snow. However, some areas in the west have seen little or no showers overnight.
Travellers have been warned to expect delays on bus and rail journeys.
Manchester Airport is open as normal but there is some disruption due to other airports being closed.
About 15 flights to south-east England, Scotland and northern Europe have been delayed or cancelled.
A spokesman said passengers travelling to those regions should check with their airlines before leaving for the airport.
All other passengers are advised to travel to the airport as planned.
School closures are being announced on local council websites.
'Friday reprieve'
The Greater Manchester Passenger Transport Executive (GMPTE) said most bus services were running. However, buses are unable to travel on some minor and estate roads in some areas.
A spokesman advised passengers to allow extra time for their journeys.
He said although most Northern Rail services were running, it was "extremely unlikely" that trains would run from Manchester Victoria to Leeds.
Long distance train services are experiencing delays and disruption, particularly to and from the north-east of England.
However, Metrolink trams are running as normal, the GMPTE said.
Several routes out of the region are closed, including Snake Pass, the Woodhead Pass and the Cat and Fiddle Road, between Macclesfield and Buxton.
The UK has been experiencing the earliest widespread snowfall since 1993.
The unusual weather is being caused by high pressure over Greenland and low pressure in the Baltic states, forcing cold winds from the north east across Europe.
The Met Office said snowy conditions were expected to continue on Thursday but Friday should see a reprieve.