Greater Manchester maternity units decision deferred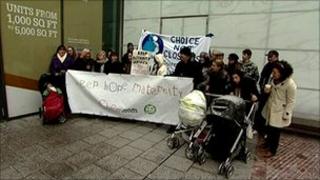 A decision on whether to cut three maternity units in Greater Manchester has been delayed until February.
The plans date back to 2006 but campaigners fighting the closure say the scheme does not meet four tests introduced by the coalition government.
NHS North West agreed that some of the criteria needed to be investigated.
The campaigners hope the delayed announcement may signal a reprieve for the units at Salford Royal, Fairfield General in Bury and Rochdale Infirmary.
Mike Farrar, chief executive NHS North West, said: "We do not change services for services' sake, what we try to do is create better outcomes for the people of the North West."
Campaigners staged a small protest outside NHS North West's meeting on Wednesday.