Greater Manchester hospitals 'cutting death rates'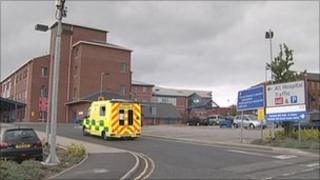 Five Greater Manchester hospitals highlighted as having higher than average mortality rates insist they are reducing the figures.
A Dr Foster report said the Royal Bolton Hospital and those run by the Pennine Acute Trust have had above average death rates for six years.
The Pennine trust said the figures may reflect the health of the local population rather than hospital care.
It said its hospital mortality rate is lower than last year.
Dr Foster's survey looks at overall death rates and deaths after surgery as well as a range of other indicators to try to build a picture of patient care.
This year's report found 19 NHS trusts in England have higher rates than would be expected.
Four trusts - Hull and East Yorkshire, Newcastle upon Tyne, University Hospitals Birmingham and University Hospital of North Staffordshire - had a higher than expected number of patients who died after surgery.
'Major improvements'
The Pennine Acute Hospitals NHS Trust runs Fairfield General Hospital in Bury, North Manchester General Hospital, The Royal Oldham Hospital, Rochdale Infirmary and services at Birch Hill, Rochdale.
Medical Director Dr Ruth Jameson acknowledged that the trust had taken action to address the underperformance since last year.
She said: "Mortality statistics do not necessarily reflect poor quality care and can be attributed to a range of factors including the health of the local population and the way in which data is recorded," she said.
"Last year we recognised that we had more work to do to reduce mortality.
"We took firm action. The results of that action to improve clinical practice and patient pathways across various services can now be seen."
She added: "Irrespective of the way trusts measure mortality, what is important is that we continue to focus on improving outcomes for patients and ensure our services and procedures are clinically safe."
The Royal Bolton Hospital also said it was showing "major improvements" in reducing mortality rates.
A spokesman said: "Many people who come to hospital are very ill and sometimes elderly and towards the end of their lives, so sadly some deaths are inevitable.
"However, over the last two years the hospital has had fewer deaths, reduced the rate of "unexpected" deaths and is one of the fastest improving hospitals in the country."