Bury man stole more than £50,000 from boy's trust fund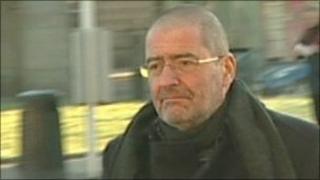 A man who stole more than £50,000 from a trust fund belonging to his dead partner's young son has been jailed.
Timothy Murphy, 55, of Bury in Greater Manchester, was made the executor and trustee of Sharon Anne Woods' will when she died in 2007, police said.
A trust fund was set up for her son, Cameron, then six. In January, his father Carl Woods found more than £50,000 was missing and alerted police.
Murphy admitted fraud and was jailed for 12 months at Bolton Crown Court.
Murphy, who had been in a relationship with Ms Woods for four years, also stole a further £2,450 from the account while on bail over the allegations, police said.
'Devastating loss'
About £160,000 had been left in a trust fund, to be given to Cameron when he was 21.
Judge Timothy Clayson, sentencing, told Murphy it was clear he had known what he was doing and that it was a mercy that even more money had not disappeared from the fund.
He said the sentence took into account his early guilty plea, and his mental health problems.
Mr Woods said: "To discover that the man Sharon trusted with the future of her most treasured possession, her son, had so callously and, for his own benefit, stolen a considerable amount of money was a devastating blow to us all.
"He has acted with no conscience and complete disregard for both Sharon, who he professed to love, and our son, who he also professed to love.
"What has appalled and upset me further is that, to add insult to injury, even after his arrest Murphy stole a further £2,450 from his bank account.
"The heartache and sadness this man has caused has added to the devastating loss the family have had to deal with in losing Sharon. Our lives have been changed and can never be put right."
He said Cameron had said he was "very, very sad" when he discovered what Murphy had done.
Cameron's maternal grandfather, Joe Williamson, said the 12-month jail term was an "appalling sentence".
He said Murphy was a "disgusting and disgraceful" man.
Det Con Pam Chandler said Murphy had "completely betrayed" his partner and her son "in the worst way possible".
She added: "I would like to praise the tenacity and persistence of Carl Woods without whom Murphy's guilt might never have been uncovered."