FC United's stadium plans in Newton Heath passed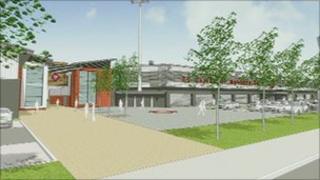 Manchester United's breakaway club - FC United - has had plans for a new 5,000 capacity stadium passed.
Their new home will be built in Acres Lane in Newton Heath, only streets away from Manchester United's first home.
The club has already raised nearly £700,000 from a community shares scheme it launched six weeks ago. It needs £3.5m to build the stadium.
Manchester City Council confirmed the planning committee had given the proposals the green light.
A sports development, which is based on the site, will be revamped and turned into the £3.5m community complex.
Lindsey Robertson, the club's secretary, said: "It's just a fantastic achievement, we are in our sixth season and we have come so far already.
'Heart of the game'
"We will have our own home for our supporters, and one which will involve the whole community on a daily basis."
FC United was established in 2005 and is one of the first clubs to introduce the community shares scheme - a way of keeping fans fully involved in its future.
Andy Walsh, general manager said: "At a time when many clubs are in debt or in the hands of major investors, we aim to demonstrate that there is a real alternative.
"We want to change the way football is run and financed by putting supporters at the heart of the game."
The team are scheduled to play Brighton in the second round of the FA Cup - the furthest they have got in the competition to date.