Tameside Council to axe 800 jobs in review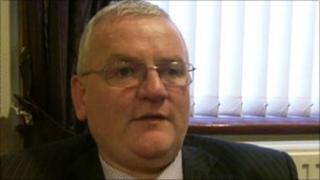 About 800 jobs will be axed at Tameside Council in Greater Manchester over the next four years to save £100m.
The authority said 550 of the posts would go in 2011/12 because it had to save in excess of £37m in the next financial year.
Kieran Quinn, leader of the Labour-run council, blamed government cuts and said the objective was to safeguard essential services.
The council is carrying out 58 separate service reviews to identify savings.
Mr Quinn announced the scale of the job cuts during the executive leader's annual key note address on Tuesday night.
He told staff the council was about to embark on "the most intensive service review programme ever undertaken".
Mr Quinn said he would work with all staff "to find a new role for them".
"This council is not announcing 800 compulsory redundancies - we're not doing that," he said.
"We're saying to our workforce we now understand the scale of the impact of the Con/Lib Dem government cuts on local government and in Tameside.
"And we're going to do everything we can to make sure that as we transform our services we bring as many people with us as we can."
Anne Keighley, of the Tameside branch of Unison, said the union was working closely with the authority to help staff look at voluntary redundancy or early retirement options.
"We've worked very hard to avoid compulsory redundancies in Tameside and have always promoted the fact we've got a very well trained, flexible workforce that are very adaptable to a whole number of situations."
But Mrs Keighley said any cuts were likely to have an effect on services, adding: "We're certainly cut right down to the bone in a number of services now.
"In fact, in some areas we're probably going to have a reduction of staff, so much so that we will be finding it difficult to provide services."