Happy Mondays' Bez fined over restraining order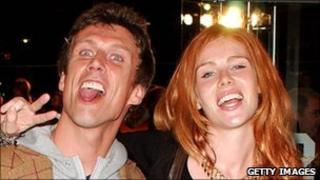 Former Happy Mondays dancer Bez has been fined £140 after pleading guilty to breaching a restraining order against his ex-partner.
Bez, 46, was arrested at London's Euston station on Tuesday after he failed to answer bail.
The order relates to his ex-partner Monica Ward, 25, who he was convicted of assaulting in August.
Bez - real name Mark Berry - was also ordered to pay £85 costs at Manchester City Magistrates' Court.
He was convicted of assault in August for flying into a rage and throttling Ms Ward after a row about money.
Ms Ward claimed the 46-year-old had pestered her with texts and calls after his conviction.
On Wednesday, he admitted contacting her by text message between 24 September and 23 October, which breached the terms of the restraining order.
The dancer, who found fame with the Happy Mondays in the late 1980s, was originally given a community service order for the attack.
But he refused to comply with the sentence and was jailed for four weeks by magistrates in Manchester.
Greater Manchester Police (GMP) put out a wanted appeal when he failed to answer bail after being arrested for breaching the order.
He was escorted back to Manchester by British Transport Police following his arrest on Tuesday.