Mind charity in Oldham has its budget cut by 80%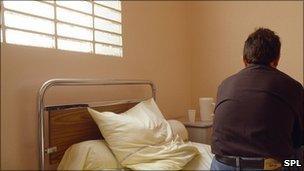 A branch of the mental health charity Mind in Greater Manchester has had its budget cut by 80%.
The organisation has had its funding from NHS Oldham and Oldham Council significantly reduced in light of the Government Spending Review.
The charity said it would now only support mental health patients in hospital and not in the community.
NHS Oldham and the Oldham Council said in a statement the services Mind provided were available elsewhere.
The cuts mean that instead of receiving £260,000 a year, the budget will now be £50,000 a year.
Four of the eight members of staff working there have lost their jobs and are spending their last few weeks trying to find those people they helped other support.
Bob Mercer, chairman of Tameside, Oldham and Glossop Mind, said: "Our view is that this decision is mistaken and short sighted; a knee-jerk reaction to the Comprehensive Spending Review without close examination of the facts or any insight into the real human impact of our work.
"Our forecasts show that the need for these services will only increase in the future. The numbers aside, we see the results of our work in the many positive stories and outcomes."
NHS Oldham and the Oldham Council said they were committed to helping those people Mind had cared for.
They said: "With the financial challenges we face, the support provided by Mind is available elsewhere, and following a detailed performance review, we took the difficult decision not to renew the charity's contract."
Related Internet Links
The BBC is not responsible for the content of external sites.