Thomas Cook holiday jet survived bird strike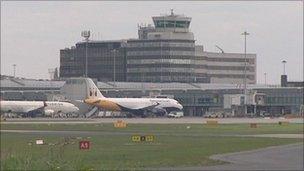 A British holiday jet flying back to Manchester survived flying into a flock of seagulls on take-off, an accident report has revealed.
The "significant bird strike" led to birds passing through both Rolls-Royce engines of the Boeing 757 said the Air Accidents Investigation Branch (AAIB).
The Thomas Cook Airlines flight landed safely in Manchester after flying from Dalaman in Turkey on 19 June.
The extent of the damage was discovered on landing.
"Significant bird remains were found still adhering to the nose and main landing gear assemblies," the AAIB report said.
Damage included a cracked nose, landing gear light and dents in the engine intake cowlings.
The report said that at take-off from Dalaman, the flight crew "heard several impacts and were aware that a significant bird strike had occurred".
The crew told air traffic control and had later heard that "multiple bird remains had been found on the runway at Dalaman".
As the plane was climbing the crew had noticed that vibration levels on the right engine had increased but other engine indications were normal, said the AAIB.
Related Internet Links
The BBC is not responsible for the content of external sites.