Failed Vance Miller prosecution 'cost taxpayers £2.1m'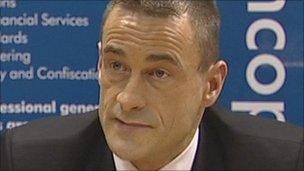 A failed Trading Standards prosecution into kitchen boss Vance Miller cost taxpayers in Oldham about £2.1m, an independent report has revealed.
The review, conducted by lawyer Stewart Dobson, raises concerns about the council's handling of the case, which was halted by a judge in January.
Trading Standards officials also lacked the resources to take on a prosecution of its size, the report said.
Mr Dobson presented a summary of his findings to the council earlier.
In the report, he said he found a number of examples of good practice in the way the authority set about the prosecution.
"On the other hand, I have also identified a number of concerns about certain aspects of the council's handling of the case," Mr Dobson said.
These included a concern the council appeared to run the case with "inadequate resources" and a lack of "effective corporate examination and scrutiny" of the prosecution plan.
Mr Dobson said he was also concerned the case was never "logged" as a potential corporate risk to the authority.
However, he added that the council could not have foreseen the reasons why its prosecution was thrown out by the judge.
His detailed report, which will be released to the public on Monday, will go before Oldham Council's Audit Committee on 23 November.
Charlie Parker, Oldham Council's chief executive, said: "I would like to thank Stewart Dobson for his work in compiling this important report.
"Oldham Council provided full co-operation throughout his independent review and we must now consider these serious findings in detail to ensure that all possible lessons are learned from what went wrong."
Mr Miller, from Ramsbottom, was cleared of conspiracy to commit fraud and making false representation in January.
After the trial at Manchester Crown Court, Judge Jonathan Foster said the case was "flawed from the start" and was "over-zealous, oppressive".
The authority's case focused on Mr Miller's kitchen business which went under a number of names, including Rock Solid Kitchens and Forever Kitchens.
In August, the council sacked its Trading Standards boss, Tony Allen, after receiving the first part of Mr Dobson's inquiry.
Related Internet Links
The BBC is not responsible for the content of external sites.