Rochdale man jailed after letterbox urine row killing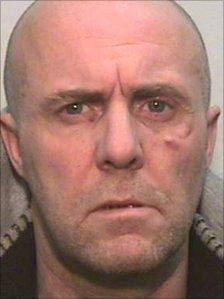 A householder who stabbed another man to death after catching him urinating through his letterbox has been jailed for five years.
Anthony Kershaw, 25, died a day after being attacked at the home of Michael Williams in Rochdale, Greater Manchester, in April.
Williams "flipped" after a previous attack at his home on the Smallbridge estate, Manchester Crown Court heard.
The 53-year-old, described as a "good neighbour", admitted manslaughter.
The court heard that residents were too frightened to go out at night because of a gang of teenagers terrorising the estate in Rochdale.
Williams heard a bang on the front door of his ground-floor flat and went to investigate, to be greeted with the sight of urine pouring through the letterbox, he told police.
He grabbed a knife from his kitchen and, as Mr Kershaw urinated, swung open the door and stabbed him.
Williams then dialled 999 as friends of Mr Kershaw smashed his windows and threatened to "burn him alive" inside his flat.
The court heard that Williams had suffered a previous similar attack and also had his front door covered in paint.
Mr Kershaw had been drinking and smoking cannabis at a friend's flat above Williams on the night of 19 April.
The householder heard someone kicking at his front door and believed someone was trying to break-in, said Peter Wright QC, prosecuting.
"He went to investigate and saw someone urinating through his letterbox and, in his own words, 'just flipped'.
"He went to the kitchen, armed himself with a knife, returned to the hallway, opened the door and stabbed the figure outside the door."
Andrew O'Byrne QC, mitigating, read out a series of police and council reports involving friends of Mr Kershaw in anti-social behaviour on the estate.
Mr O'Byrne said: "The evidence is that because of the behaviour of people on that estate the lives of a great many people, otherwise thoroughly decent in their day to day dealings, were made extraordinarily difficult.
"It is difficult to imagine what it's like when there is this constant drip, drip intrusion into your quiet enjoyment of your own property."
Since being in custody, Mr O'Byrne said Williams had been assaulted after "coming to the attention of friends" of Mr Kershaw in jail and had been segregated for safety.
Mr Justice Keith, sentencing, said he had taken into account the "frightening and intimidating" nature of where Williams lived and noted the "violence, abuse and other anti-social behaviour" which he had been subjected to.
"You were responsible for his death, however drunk and high he was and however badly he was behaving that night," he added.
Mr Kershaw had a young son, Stevie-Lee, with his girlfriend Natalie.
His family reacted angrily to the sentence and walked out of court as the judge addressed them.
Related Internet Links
The BBC is not responsible for the content of external sites.