JJB Sports fined £450,000 by city watchdog FSA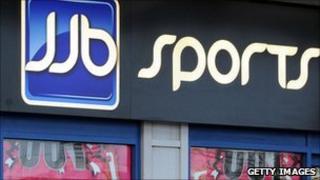 Sportswear retailer JJB Sports has been fined £445,000 by City watchdog, the Financial Services Authority (FSA).
The FSA had investigated the company's compliance with transparency rules, before they posted big losses in 2008.
The Wigan-based company said it has a new management team in place and had since secured a rescue deal with its landlords.
JJB Sports added that no further FSA investigations were pending and it welcomed the end of the investigation.
The firm's half-year results in 2008 shocked the market when JJB, then under the leadership of former chief executive Chris Ronnie, reported far worse than expected losses of £9.7m and axed its shareholder dividend payout.
Collapse fears
Shares slumped 60% on the day of its results blow, when its auditors also raised "significant doubt" about its ability to continue as a going concern.
Just two months earlier, JJB had posted figures showing a marked improvement in sales towards the end of the first half.
News of the losses came at the start of a lengthy period of woes for Wigan-based JJB that saw the group come close to collapse.
The group stressed on Friday that the FSA probe was into compliance at the firm before the company's restructuring.
The firm has been the subject of various investigations following its troubles over the past two years.