Jade Goody website 'troll' from Manchester jailed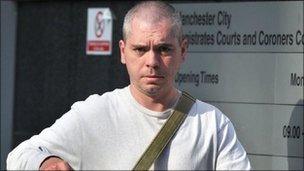 An "internet troll" who posted obscene messages on Facebook sites set up in memory of dead people has been jailed.
Colm Coss, of Ardwick, Manchester, posted on a memorial page for Big Brother star Jade Goody and a tribute site to John Paul Massey, a Liverpool boy mauled to death by a dog.
The 36-year-old "preyed on bereaved families" for his "own pleasure", Manchester Magistrates Court heard.
He was jailed for 18 weeks for sending "malicious communications".
The posts included comments claiming he had sex with the victims' dead bodies, the court heard.
He was charged under the Communications Act 2003, for sending malicious communications that were grossly offensive.
Unemployed Coss was only caught when he sent residents on his street photos of himself saying he was an internet "troll".
One of the residents passed the photos to police who interviewed him before he eventually admitted to posting abusive messages.
The term "troll" was described in court as someone who creates new identities on Facebook accounts and then posts numerous offensive comments to upset or provoke a reaction from others.
Chairwoman of the bench Pauline Salisbury said: "You preyed on bereaved families who were suffering trauma and anxiety.
"We know you gained pleasure and you aren't sorry for what you did."
The defence raised possible mental health issues but they were dismissed by the bench.
Related Internet Links
The BBC is not responsible for the content of external sites.