Manchester City's Shay Given fined for speeding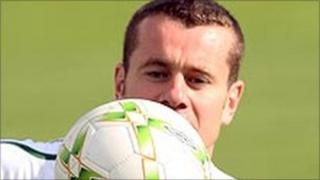 Premier League goalkeeper Shay Given has been fined and given penalty points after admitting speeding in his luxury Bentley car.
The Manchester City admitted in a letter to Manchester Magistrates' Court he had driven at 75mph in a 50mph zone.
Given, 34, who was not at the hearing, had a charge of failing to produce his driving licence dropped.
He was ordered to pay a £60 fine, £75 costs and given four points on his licence.
The Irish international, who already had three points on his licence for an April 2008 speeding offence, was seen by police speeding down Manchester's Princess Parkway on 16 February.
He was issued with an on-the-spot fixed penalty notice by a traffic officer, but he could not find his driving licence, the court heard.
Given's lawyer Gwyn Lewis told the court that he had mislaid the licence after moving from Newcastle to Manchester.
Mr Lewis said: "It was 11.50 at night, there was little traffic on the road.
"The officer felt it should be dealt with as if it was a fixed penalty notice and it was only an administration difficulty that stopped this happening," he said.
Given later found his licence and took it into a police station, said Mr Lewis.