By-election held after Tameside councillor dies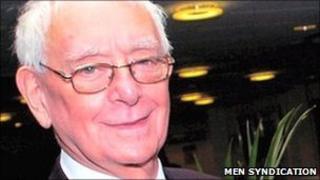 A by-election is being held in Tameside to fill the council seat left vacant by the death of Councillor Roy Oldham in July.
The 76-year-old Labour veteran, who had cancer, led Tameside Council for 30 years, making him the longest-serving council leader in England.
He was replaced as leader in May by council colleague Kieran Quinn, but was re-elected as a councillor.
Five candidates are standing for election in Longendale ward.
The candidates are Rob Adlard, Conservative Party; Janet Cooper, Labour Party; Anthony Jones, British National Party; Kevin Misell, UK Independence Party; Melanie Roberts, Green Party.