NHS staff in Manchester protest over job cuts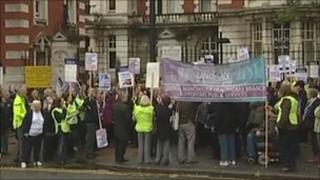 Hundreds of NHS staff have been protesting in Manchester over cuts to services and changes to the terms and conditions of their jobs.
Central Manchester Hospitals NHS Trust announced this week up to 1,400 jobs could go over the next four years in an attempt to make savings of £30m a year.
Staff will also be working under new terms and conditions from Thursday.
Changes mean those off sick more than four times or for more than 18 days a year will not be granted pay rises.
The trust runs Manchester Royal Infirmary, St Mary's Hospital, Manchester Royal Eye Hospital, Royal Manchester Children's Hospital and the University Dental Hospital of Manchester.
It has said it needs to save £120m by 2014 in order to safeguard jobs after government spending cuts.
Workers including nurses, doctors, cleaners, porters and catering staff protested outside Manchester Royal Infirmary at lunchtime.
A spokesman for the trust said: "The Trust will be operating in a challenging financial environment over the next few years.
"In order to protect the development of our services and safeguard the employment of our staff, we need to increase our productivity and efficiency to ensure that we can continue to deliver quality clinical services while making financial savings of around £30 million for each of the next four years."