Old Trafford cricket regeneration scheme approved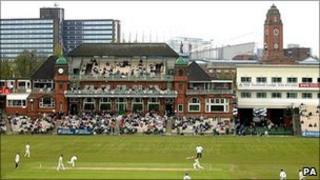 A £32m redevelopment of Lancashire County Cricket Club (LCCC) has been given the go ahead.
The scheme to create new pitches, two new grandstands and a new pavilion also includes the creation of a Tesco store on a neighbouring 50-acre site.
LCCC said the decision had secured its future as a Test cricket venue.
Trafford Borough Council issued formal planning permission for the scheme on Wednesday, after the government decided not to intervene in the case.
The plans had been called in by Communities Secretary Eric Pickles, who said he wanted to review the decision after Trafford Borough Council approved it.
The Department of Communities and Local Government decided it would not hold a public inquiry and passed the final decision back to the council.
Big screen
Leader of Trafford Borough Council Matt Colledge said: "The Secretary of State's decision is formal confirmation that the council's planning committee decision and the process it followed were correct.
"It has stood up to the most robust scrutiny, having been reviewed twice.
"It marks an historic milestone not just for the Old Trafford area but also the wider North West."
He added that the redevelopment would "kick-start longer-term regeneration plans for the wider area," securing local jobs and transforming the neighbourhood.
LCCC chief executive Jim Cumbes said: "This is a historic moment for Old Trafford, as it will ultimately secure the future of international cricket in Greater Manchester and the North West.
"We can now immediately commit to the turning of the wicket, a vital stage in our programme for the redeveloped stadium to be ready in time to host the Ashes in 2013."
'Flagship development'
The scheme will also provide the Old Trafford ground with new player and media facilities, a big screen and an extension to its indoor cricket school and public areas.
Seating capacity will be increased from 15,000 to 25,000.
Mr Cumbes said: "The government has backed the council's recognition of the important role the club plays in supporting Trafford's economy - especially through hosting international matches like the Ashes.
"This decision backs the partnership's plans to deliver a much-needed new retail offering, hundreds of local jobs, and millions of pounds in regeneration to this part of the borough.
Michael Kissman, corporate affairs manager for Tesco, which is helping to fund the development, said: "This is a flagship development for us in the Manchester area, which will create hundreds of jobs - and most importantly half the jobs created in the Tesco store will be reserved for the long-term unemployed."