Family tribute to man shot dead at traffic lights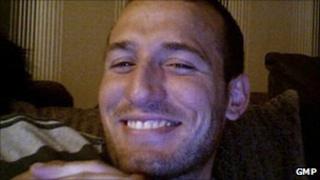 The family of a Manchester man who was shot dead in the street have paid tribute to "an absolute gentleman".
Kevin Bond, 30, was shot in the stomach after an argument with the occupants of a car which was stopped at lights in Wythenshawe on Sunday afternoon.
His mother Jackie said the father-of-one and Open University student was "devoted to his family and friends".
Detectives have said any information provided on the murder would be treated in confidence.
Det Supt Mary Doyle said: "We know that it must be terrifying for people to see a man shot in the street like this but please do not be afraid to come forward and tell us what you know.
"There are special measures that can be put in place to protect witnesses. We have used these measures before and they have helped us secure convictions in numerous cases."
Mr Bond had been on his way to a wedding fayre with his fiance when the Seat Leon they were travelling in was stopped at traffic lights on Rowlands Way, Wythenshawe, at the junction with Simonsway.
He got out and walked over to a silver car that was stopped behind the Seat and was shot in the stomach.
He was taken to hospital and underwent emergency surgery but died a short time later.
A post-mortem examination concluded he died from gunshot wounds to the abdomen.
His mother said that Mr Bond "adored his daughter and was extremely proud of his two younger sisters".
"He was articulate and enthusiastic in everything he did. Kevin had been studying social science at the Open University - his education was paramount to him and he recently completed eight full university foundation awards in sociology and psychology.
"Kevin also had a diploma in sports and nutrition and would always try to convert family and friends into eating healthier."
She said that a former tutor remembered him as "an absolute gentleman".
"Kevin wasn't an angel or a saint but he certainly didn't deserve to be murdered," she added.