Student raped and left naked by roadside in Manchester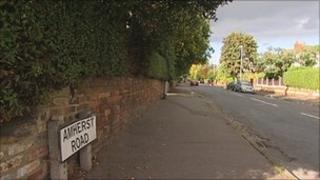 A Manchester student has been raped, beaten and left naked by the roadside in an attack police believe could have been carried out by a serial offender.
They have now appealed to students in the Fallowfield area not to walk home alone and say the woman may have been stabbed with a knitting needle.
Police described the man who pushed his victim into a car on Amherst Road as Asian and overweight.
The woman was subjected to an "horrific" sexual attack, police said.
The woman was also left with injuries to her back and eye after being hit with a weapon similar to a skewer or knitting needle, detectives said.
The offender drove a black five-door car. He let the woman get out of the car after the attack in the early hours of Friday but drove off with her clothes and handbag containing her camera, phone and cards.
The offender was described as Asian, of fat or large build, around 5ft 10ins (1.78m) tall and aged in his late 20s to early 30s and had a shaved head.
Officers believe this incident may be linked to another on Wednesday where a woman saw a similar looking man beside a black saloon car on Alan Road.
He tried to grab her hand but she ran off and called police.
Det Ch Insp Steve Eckersley said: "The victim has been through a horrific and traumatic ordeal and she is currently being supported by specially trained officers.
"Many students may be going out in Manchester after the summer break and I would urge them to take care when planning their route home.
"Please don't walk home on your own, arrange for a taxi to drop you off outside your house and if you are walking and become concerned about someone, go to the nearest house for safety. "
Patrols have been increased in the area and witnesses are asked to contact police.