Wythenshawe shooting police seek 'terrified' witnesses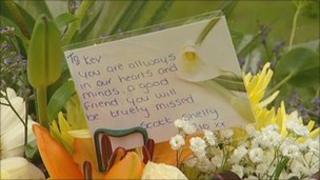 Detectives in south Manchester want to trace the occupants of four vehicles who are believed to have witnessed a man being shot dead in the street.
Kevin Bond, 30, was shot in the stomach after an argument with the occupants of a car which was stopped at lights in Wythenshawe on Sunday afternoon.
Four other vehicles were waiting at the lights and police want to trace them.
Detectives conceded the witnesses must be "terrified" but said they could be protected if they came forward.
Mr Bond was a passenger in a Seat Leon that was stopped at traffic lights on Rowlands Way, near a BP petrol station, at about 1400 BST.
Greater Manchester Police (GMP) said he had got out and walked over to a silver car behind the Seat when he was shot.
All the cars were waiting to turn either right or left out of Rowlands Way at Simonsway, and had come from the Poundswick Lane direction.
They were:
A dark Volvo V40 estate with a man driving and a woman sitting in the passenger seat
A grey or dark Renault Megane Scenic with a man driving and a number of passengers
A white Renault Clio
A small Ford Escort-type van
Detectives are continuing to hunt his killer and a temporary police pod has been set up near to the scene. Extra officers are also patrolling the streets.
Det Supt Mary Doyle, leading the investigation, said: "We are determined to find the people responsible for killing Kevin and the people in those cars might be able to tell us something that will help our investigation.
"We know that it must be terrifying for people to see a man shot in the street like this but please do not be afraid to come forward and tell us what you know.
"Information can be treated in the strictest of confidence and there are special measures that can be put in place to protect witnesses.
"We have used these measures before and they have helped us secure convictions in numerous cases."