Zutons singer Dave McCabe 'scared of attack'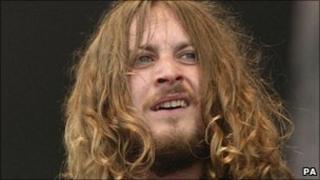 The lead singer of The Zutons has told a jury he broke a man's nose because he was scared of being attacked.
Liverpool Crown Court heard Dave McCabe headbutted student Peter Appleby, 23, outside a nightclub on 21 February.
Mr McCabe, 29, who wrote the hit song Valerie, commentated on CCTV footage of the disturbance during the second day of his trial.
He denies assault occasioning actual bodily harm and said he acted in self-defence.
The Zutons formed in 2001 and have released three albums.
The jury heard Mr McCabe talk through film of the disturbance, which took place at 0330 GMT outside Liverpool's Korova bar on Hope Street.
He said he had visited the bar with his girlfriend, two brothers and other friends after attending his mother's 60th birthday party.
Mr McCabe told the court a group of five students approached them as they left the club and insulted his girlfriend who was wearing a fur-collared coat.
He said: "The group of men stood next to us and one of them said to my girlfriend 'You look like you have got a beard'.
He said his girlfriend responded by calling one of them a name.
The group was "laughing and sniggering", said Mr McCabe, so he approached them to "smooth things over".
'Raised his hand'
"I used to go to that bar a lot and I wanted to smooth things over," Mr McCabe told the court.
Mr McCabe, who lives in Liverpool, who claimed Mr Appleby swore at him and told him to go away.
"They were surrounding me and I said they couldn't pick on us like that," Mr McCabe said.
"He raised his hand and I could tell from his body language that he was going to punch me so I headbutted him and backed off."
Cross-examined by prosecutor, Ben Morris, Mr McCabe said he had drunk three glasses of wine and five bottles of beer.
He said he headbutted Mr Appleby because he felt he "didn't have time" to raise his own arms for protection.
Giving evidence on Monday, Mr Appleby denied he moved his arms to punch Mr McCabe and said he and his friends had not intended to upset the couple.
The student told the jury he had consumed six pints of Guinness and admitted he was drunk.
The trial continues.